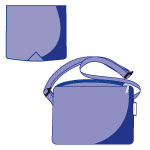 The square messenger bag: the large multi-purpose bag
For students, mothers, or active women, this large bag will follow you on all your adventures. To hold a notebook, a cuddly toy, an address book, or everything at the same time, this bag with interchangeable flaps will adapt to your needs and especially to your desires thanks to the many removable flaps available. Our tip for adding a fun touch to this bag: we attach a little bow to accessorise it.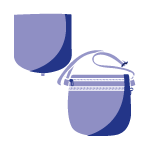 The small bag: the practical format
This bag is ideal for those who want to take a few things with them, without being overburdened and with a light touch. This small bag will easily hold the necessities: a large wallet, a small make-up bag, your phone, keys and even a small notebook. This bag, although compact, can still carry many items: perfect for those who live at 100 km/h.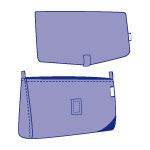 The companion bag: the chic minimalist format
If you don't like excess and want to carry the minimum with style: go for this companion bag with removable flap! Its small size will contain only the essentials but will follow you everywhere. It can be used as an evening bag or as an everyday bag. If you are more creative, have fun creating great combinations because the companion bag has the particularity of having an interchangeable strap in addition to the flap. A multitude of looks in perspective to adapt to all your occasions).